My Blog
Posts for: August, 2014
By Aaron M. Bliley, DMD, LLC
August 25, 2014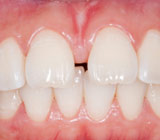 We all know Madonna, Seal, David Letterman, Anna Paquin and Michael Strahan (of the talk show Kelly and Michael). What do all of these celebrities have in common? Each has a "signature gap" between their front teeth. Given that they have been in the public eye for quite some time, it's not likely that these famous faces will choose to change their well-known smile. In fact, Michael Strahan has publically stated that he will never close his gap.
However, it is not uncommon for people to desire to fix a small gap in their teeth, particularly in advance of important events, such as weddings. Often times, fixing this small gap requires relatively simple orthodontic movements or tooth straightening. Since the teeth don't have to be moved very far, we can usually use simple appliances to correct the issue within a few months.
In order for us to determine your course of treatment, you'll need to make an appointment with our office for a thorough examination. When we examine you, we'll be looking for a number of items that will affect our treatment recommendation:
Is there enough room to close the space without creating other bite problems?
Are the roots of the teeth in reasonably good position to allow for minor tooth movement to close the space? X-rays will be required to make a proper assessment.
Is there an involuntary tongue habit that has pushed the teeth forward and created the gap? If so, this could be difficult to fix quickly.
Are the surrounding gum tissues and bone healthy?
Based on our assessment and your individual needs, we may recommend one of the following options:
Clear retainers, a computer-generated series of clear retainers customized for your bite to move the teeth
Removable orthodontic retainers to which we will attach small springs or elastics to facilitate the minor tooth movement
Traditional fixed orthodontic appliances (most commonly known as braces), small metal or clear brackets bonded to your teeth through which tiny wires are used to move the teeth
Regardless of the method we choose, once your teeth have moved into the new position, it is important for you to remember that they must be kept in this position until the bone stabilizes around the teeth. We may therefore advise you to wear a retainer for a few months to a few years, depending on your situation.
If you would like more information about orthodontic treatments, please contact us or schedule an appointment for a consultation. You can also learn more by reading the Dear Doctor magazine article "Minor Tooth Movement."
By Aaron M. Bliley, DMD, LLC
August 15, 2014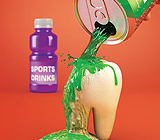 Look around and you'll find warning labels on lots of household items: alcoholic beverages, drain uncloggers, pesticides and pool toys (not to mention cigarettes and chainsaws). Now, California lawmakers are proposing to add one more item to the list: sugary soft drinks. A bill to that effect recently passed the California state Senate, and is presently headed to the Assembly. If approved by both houses and signed by the governor, it would require sugary beverages to carry a warning label.
The proposed label would read: "STATE OF CALIFORNIA SAFETY WARNING: Drinking beverages with added sugar(s) contributes to obesity, diabetes, and tooth decay." It would appear on drink packaging and vending machines. While some may feel it's an infringement on personal choice, recent polling seems to show that the tide of public opinion may have turned toward recognizing the potential health dangers of sugary drinks.
How real are those dangers? The medical groups sponsoring the bill (including the California Medical Association) point to numerous scientific studies showing, among other things, that:
Drinking one soda per day increases an adult's likelihood of being overweight by 27 percent — and for a child, the likelihood is doubled!
Drinking one or two sodas per day increases the risk of developing type II diabetes by 26 percent.
People who drink two to three sodas per day are 2.75 times more likely to have a heart attack.
Drinking sugary beverages daily for only two weeks increases LDL ("bad") cholesterol and triglyceride levels by 20 percent; over a longer period, it has even worse effects.
Children who consume sugary beverages are much more likely to develop tooth decay.
No matter where you stand on the debate over warning labels, you should understand the potential dangers of consuming foods and beverages with added sugar. For years, dentists have been cautioning people to limit their intake of sugary treats, including sodas and other sweets. Initially, our warnings came from the standpoint of oral health. Now, we have evidence that many other health problems have the same cause. We want to share this information with you because we're concerned about your overall health — not just your oral health. You can learn more by reading the Dear Doctor magazine article "Think Before You Drink."