My Blog
Posts for: December, 2017
By Aaron M. Bliley, DMD, LLC
December 23, 2017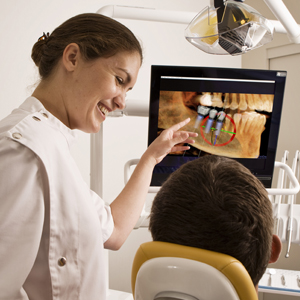 If you're considering different options for tooth replacement, dental implants are likely high on your list. Implants have a proven reputation for both durability and life-like appearance that can restore mouth function and revitalize your smile.
There is one aspect concerning implants, however, which gives people pause — the surgical procedure required to place the implants in the jawbone. If you're leery about undergoing this procedure we can put your mind at ease — for most patients implant surgery is a minor, pain-free process with little discomfort afterward.
While there are variations in style, implants generally have two major components: a titanium post that's implanted into the jawbone and a permanent life-like crown that's affixed 6 to 12 weeks after implant surgery. Titanium is the metal of choice because of its affinity with bone cells; over time bone will grow to and attach itself around the implant, a process known as osseo-integration. The metal post is normally spiral in shape, allowing it more surface area for bone to adhere to.
In the beginning of the procedure we administer local anesthesia to fully numb the area before proceeding. After accessing the bone through tiny incisions in the gum tissue, we create a small channel in the exposed bone. A surgical guide may be used to prepare the precise location for the implant with a series of drilling sequences that increases the channel until it matches the implant size. While this takes place, you should only feel a mild vibration and a little pressure from the drill.
The implants are then removed from their sterile packaging and placed immediately into the prepared site. The gum tissues are then sutured into place with self-absorbing sutures. Most people have only mild discomfort after the surgery that can be managed with a prescription-strength non-steroidal anti-inflammatory drug like ibuprofen. We may also prescribe antibiotics and other care instructions to ensure successful gum tissue healing.
With proper planning and precise implant placement by skilled hands, implant surgery is an easy and uneventful procedure. And, with your new crowns in place, your new, beautiful smile will make the experience a distant memory.
If you would like more information on dental implants, please contact us or schedule an appointment for a consultation. You can also learn more about this topic by reading the Dear Doctor magazine article "Dental Implant Surgery."
By Aaron M. Bliley, DMD, LLC
December 08, 2017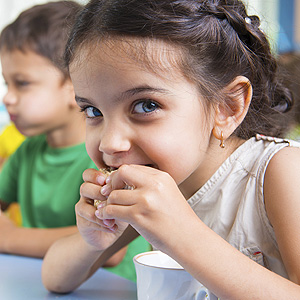 While you do all you can to provide your child healthy meals and snacks at home, they still face tempting choices for unhealthy fare when they're away. Unfortunately, their school campus could be one of those places with food choices that raise their risk for dental disease.
Thankfully, that situation is beginning to change. The U.S. Department of Agriculture (USDA) issued regulations a few years ago tightening minimum health standards for snacks available on school grounds. Called the Smart Snacks in Schools initiative, it promotes whole grains, fruits, vegetables and low-fat dairy products, while discouraging snacks with empty calories, fat, sugar and excessive salt. This is good news in particular for preventing tooth decay in children and teenagers.
Unfortunately, the initiative may not go far enough. There are a few "loopholes": it allows for chocolate milk with added sugar as long as it's fat-free; high schools can also sell beverages like sports and energy drinks, which are low in sugar but high in enamel-harming acid. So, although the general nutrition of snacks in schools may be improving, you should still remain alert to poor choices that may fall through the cracks.
For one thing, you can advocate for better nutrition policies in your child's school. The USDA initiative is a minimum standard — schools can exceed them and eliminate borderline snacks allowed under the federal regulations.
You can also provide your child snack alternatives to the school vending machine. A little creativity and fun can go a long way: a dash of cinnamon or parmesan cheese on popcorn instead of butter; finger sandwiches made of real cheese on whole-grain bread (with some whimsical shaping with a cookie-cutter); or bite-sized fruits and vegetables like grapes, baby carrots or nuts. The more healthy (and enjoyable) snacks you can send with them, the less chance they'll turn to a less nutritious choice in the vending machine.
A healthier approach to snacking depends on setting good examples, providing ample selections and accentuating the positive about healthy foods. Choosing nutritious foods, at home and away, is a key building block for healthy teeth and gums.
If you would like more information on nutrition and dental health, please contact us or schedule an appointment for a consultation. You can also learn more about this topic by reading the Dear Doctor magazine article "Snacking at School."